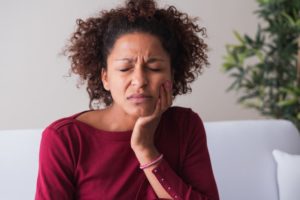 You don't want to make a big deal out of nothing, but your toothache is getting worse and keeping you from being able to concentrate at work. It's starting to affect your daily life and you're worried that it could be the result of something serious. After dealing with this pain for a few days, you finally think it's time to visit your emergency dentist. A toothache could be a symptom of multiple oral health problems. Catching them before they progress into something serious could save your tooth. Read on to learn about what could be causing your toothache and how your dentist can help.
What Could be Causing Your Toothache?
Before you determine whether you should visit your emergency dentist, assess how much pain you're in. Try lightly flossing around the affected area to dislodge any food particles or rinse your mouth with lukewarm water. If this doesn't work, contact your dentist to schedule a visit. Your toothache could be caused by several issues, some of the most serious include:
Tooth Decay & Infection— This is one of the most common causes of a toothache. If the decay has progressed, it could be what's causing your pain. If you're experiencing more of a sharp pain than an ache, the decay may have reached the inside of your tooth and be what's affecting your daily life. It's important to address these issues as soon as you're able to in order to prevent larger problems.
Tooth Fractures— A fracture can make its way toward the middle of your tooth where your nerves are and cause unbearable pain. This can happen after you've chipped or cracked a tooth. When left unattended to, this dental emergency can worsen and cause a great deal of pain.
Lost Filling— If a cavity filling falls out or becomes damaged, it can leave your inner tooth vulnerable to food debris, bacteria, and temperatures. This can cause a piercing pain, making it necessary to book an appointment with your dentist immediately to have it fixed. When left untreated, it could result in dental decay and even tooth loss.
No matter what the reason is, it's important to contact your emergency dentist if you're experiencing oral pain that won't go away.
How Can Your Dentist Help?
Scheduling an appointment with your emergency dentist can be the first step to getting the treatment and relief you need. They can help save your tooth and prevent further oral health issues. Depending on what they determine is causing your pain, your dentist may determine a root canal is necessary.
Although root canals have a bad reputation, they can help provide you with pain relief as well as save your tooth from having to be extracted. The procedure involves your dentist removing infected pulp in your tooth and cleaning it. Once they've done that, your tooth will be filled and capped to strengthen and protect it. If your dentist has exhausted every treatment option available, they may then turn to tooth extraction to ease your discomfort.
Your dentist can provide you with relief by diagnosing and treating what's causing your severe toothache. Although certain treatment options may seem daunting, they can get you back to your daily grind and prevent future oral health problems!
About the Author
Dr. Vacek has been serving his community of Waverly for over a decade. He takes pride in providing patient-focused care and getting to know each person that walks through his doors. He continues his education to keep up-to-date with the most advanced dental technology and treatments. For any questions or to schedule an appointment, visit Amberly Dental's website or contact 402-786-2007.