Tooth Extractions – Waverly, NE
Safe & Comfortable Tooth Removal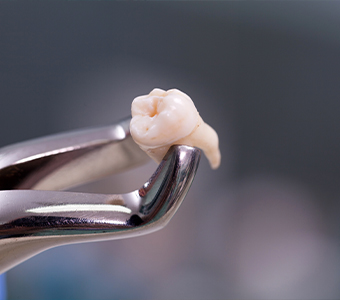 If you have an impacted or severely decayed tooth causing you trouble, Dr. Vacek may suggest you come in for a tooth extraction here at Amberly Dental. This procedure is safe and works to protect the rest of your smile from future dental problems, and he will talk with you about replacing your tooth. Patient comfort is extremely important to us, so whether it's you or a loved one that needs an extraction, you can trust we'll make the experience as smooth and easy as possible. To learn more about tooth extractions in Waverly, keep reading or reach out to our team today.
Why Choose Amberly Dental for Tooth Extractions?
Same-day emergency dental appointments
Soothing sedation dentistry available
Dental insurance accepted & maximized
Why Tooth Extraction Might Be Needed
While we strive to avoid the need to remove a tooth whenever possible, certain conditions may make tooth extraction the most effective option for returning your smile to good health and function. Among these are:
Severe infection that has destroyed a significant portion of the tooth and supporting bone structure.
Serious decay that has damaged a tooth beyond repair, making a successful restoration impossible.
Crowding caused by too many teeth to properly fit in the mouth.
No Need to Worry About Tooth Extractions
Dr. Vacek and our team use great care and skill when performing a tooth extraction to ensure that the patient experience is comfortable and painless every step of the way. Thanks to factors like modern techniques, sedation, and anesthetic, many patients describe feeling zero pain during this procedure. We also provide patients with detailed post-treatment care instructions so that they can properly take care of their smiles as they heal. Typically, a patient will need to rest for a day or two and stick to a soft food diet initially. After a week, they should feel completely normal.