Emergency Dentist - Waverly, NE
Fast Care Right When You Need It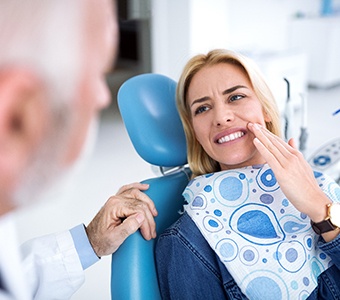 No one expects a knocked out tooth or painful toothache to ruin their day, but at Amberly Dental, we can tell you that these situations pop up more often than you might think! Should you ever find yourself in need of urgent dental care, all you need to do is call our office, and we'll be happy to see you right away. We're often able to treat emergency patients the same day that they call in, relieving their pain and helping them get back to their normal lives as quickly as possible. If you're in need of dental care right NOW, give us a call, and we'll take care of the rest.
Why Choose Amberly Dental for Emergency Dentistry?
Same-day appointments available for emergency patients
State-of-the-art technology helps us find & treat issues in less time
Sedation dentistry available to ensure comfort
Dental Accidents & Facial Trauma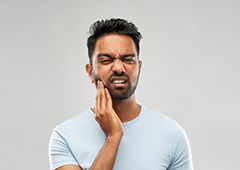 Are you dealing with a broken or knocked out tooth due to a motor vehicle accident or sports-related injury? We can help take away the pain and possibly save the tooth if you:
Try to recover as much of the tooth as you can.
Gently rinse it with warm water.
Give Amberly Dental a call.
Try to place it back into its socket until you can see us.
If this isn't possible, put the tooth in a container of milk or water.
Try to make it to our office within an hour of the initial accident. This will give us the best chance of replanting the tooth.
Dental Emergencies Due to Neglect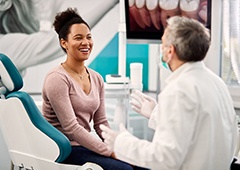 Did you wake up this morning with a terrible toothache? To get the relief you need, make sure to:
Rinse your mouth and gently floss around the tooth to dislodge anything that might be stuck and causing the pain.
If this doesn't help, give Amberly Dental a call.
Until you can make it to our office, a cold compress on the face or OTC pain medication can help manage the discomfort.
Experience & Qualifications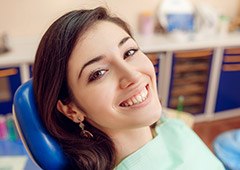 Dr. Timothy Vacek has years of real-world experience as general dentists, which means whatever emergency situation a patient might be in, he has likely already helped countless people navigate through it before. He's able to perform root canal therapy to alleviate toothache pain, replant knocked out teeth, extract extremely damaged teeth, and provide a number of natural-looking and long-lasting replacements if necessary. Basically, you can trust that he'll have exactly what you need no matter your circumstances!
Root Canals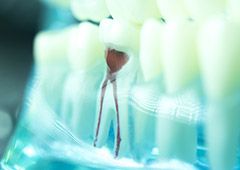 Most of the time, an extremely painful toothache is the result of the dental pulp (where the sensitive internal nerve of a tooth is located) becoming infected or damaged, and to save the tooth, a root canal is usually the best option. During this procedure, the pulp is simply removed, replaced, the tooth is cleaned and sanitized, and then it's rebuilt using a restoration. Thanks to modern techniques, this often feared procedure is now no more painful than getting a small filling!
Extractions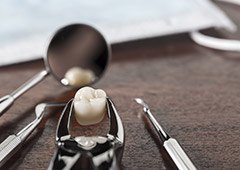 While our primary goal is to help our patients preserve their natural teeth for as long as possible, there are still some situations where removing a tooth is the best answer, such as:
A tooth is too decayed or broken to be repaired
Advanced periodontal disease has damaged the bone supporting a tooth
A tooth has become stuck while trying to erupt (impacted), painful, or infected (this is often the case with the wisdom teeth)
At Amberly Dental, we're able to provide all manner of extractions in-house, including those for wisdom teeth. Using a combination of a gentle touch, local anesthetic, and sedation, we can guarantee the comfort of our extraction patients throughout the entire treatment.
Learn About Root Canals & Extractions
Wisdom Tooth Extractions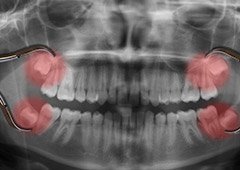 The wisdom teeth are typically the last set of teeth to come in, usually around the late teens or early twenties. While these extra molars came in handy for our caveman ancestors, they tend to just cause problems now. Most people simply don't have enough room in their mouth for these teeth, meaning they often cause pain, put pressure on the other teeth, or become infected as they struggle to erupt. At Amberly Dental, we can safely extract these teeth before they become a nuisance, using both local anesthetic and sedation to ensure a patient's comfort the entire time.
Emergency Dentistry FAQ
In any emergency, you need to act quickly to give yourself the best chance of saving your smile. That means being prepared well before you ever need to think about calling the emergency dentist in Waverly. Below are the answers to some common questions our patients have brought to us. If you have any additional concerns, call us today! We'll make sure you have the knowledge you need to make a plan in the worst-case scenario.
What causes tooth sensitivity?
Tooth sensitivity can have several different causes. Most often, sensitivity is caused by weakened tooth enamel or exposed nerves in the tooth. The most noticeable effect is a sudden and sharp pain when the tooth is exposed to hot or cold.
What Counts as a Dental Emergency?
"Dental emergency" is a very broad category, but in most cases, it'll involve physical damage to the teeth (cracked, broken or knocked out teeth) and/or severe pain (toothaches that last more than a couple of days). Also, if you notice sudden swelling or uncontrollable bleeding in your mouth, you'll need to make an appointment as soon as possible. Remember, just because an issue isn't causing you pain at the moment doesn't mean it won't become a bigger issue later; you should call your dentist any time you have doubts about your oral health.
I've Never Been a Patient at Your Practice Before. Can You Still Help?
Absolutely! Time is of the essence during an emergency, and we're happy to see patients of all kinds no matter whether or not they've already visited our practice. Dr. Vacek has made a point of establishing a tradition of providing exceptional dental care for patients all across the communities that surround Waverly; most importantly, however, he loves being able to help people who need it. If you or a loved one need urgent attention that could mean the difference between saving or losing a tooth, don't hesitate to give us a call!
What Kind of Medication Can I Take to Relieve Dental Pain?
Whether it's pain from the emergency itself or discomfort after surgery to treat it, you can usually treat dental pain with over-the-counter medication such as ibuprofen. (Aspirin should be avoided, as it can burn the gum tissue if there's an infection.) You can also use corticosteroids such as Orabase-HCA to treat an inflammation.
Will the Pain Go Away on Its Own?
If you have a toothache, the pain might eventually fade on its own over time, but that's not necessarily a good thing! The pain from a toothache is from bacteria attacking the nerve; once the nerve's been destroyed, the pain stops, but the infection is still there. Eventually, it'll work its way to the bone; not only could your teeth become loose, but the infection can invade the rest of the body. It's best to stop these infections in the earliest stages, so don't delay in calling our practice!
In general, you should never wait for a dental issue to fix itself. Always call a dentist for treatment if you think there's something seriously wrong.
Can My Dentist Call in a Prescription?
If you're suffering from an oral infection, you might need to get an antibiotic subscription, which we can provide for you. This is usually done for particularly severe infections. Also, patients with weakened immune systems might need antibiotics before and after surgery to reduce the risk of infection.