Emergency Dentist – Waverly, NE
Fast Care Right When Your Smile Needs It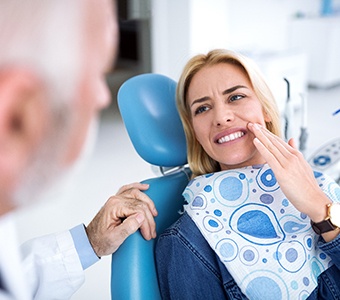 No one expects a knocked-out tooth or painful toothache to ruin their day, but at Amberly Dental, we can tell you that these situations pop up more often than you might think! Should you ever find yourself in need of urgent dental care, all you need to do is call our dental office, and our emergency dentist in Waverly will be happy to see you right away. We're often able to treat emergency dental patients the same day that they call in, relieving their pain and helping them get back to their normal lives as quickly as possible. If you're in need of dental care right NOW, give us a call, and we'll take care of the rest.
Why Choose Amberly Dental for Emergency Dental Care?
Same-Day Dental Appointments for Emergency Patients
One-Visit Dental Crowns for Fast, Precise Care
Sedation Dentistry Available to Ensure Patient Comfort
What to Do in a Dental Emergency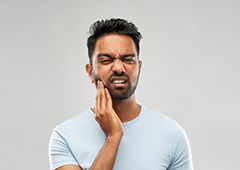 Give Amberly Dental a Call: No matter what type of dental emergency you're facing, give us a call as soon as you can so we can schedule your appointment. We're often able to see emergency patients the same day they call us, and we'll also provide first-aid instructions for handling your situation over the phone.
Come in for Your Emergency Exam: As soon as you reach our office, your experienced Waverly emergency dentist Dr. Vacek will see you for an examination to learn more about the extent of your emergency.
Review the Findings and Create a Plan: Once we've alleviated any pressing pain, we'll go over our findings with you and fully explain all your treatment options, including their estimated cost and length. From there, we'll work with you to create a treatment plan to get your oral health back on track.
Get the Fast, Comfortable Care You Need: Next, we'll get to work repairing your smile and preserving your teeth right away. For patients who are nervous or uncomfortable, we have sedation options available so you can sit back and relax while you get the care you need.
Unmatched Experience & Qualifications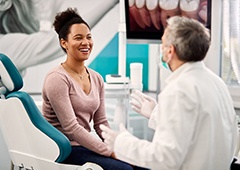 Dr. Timothy Vacek has years of real-world experience as a general dentist, which means whatever emergency situation a patient might be in, he has likely already helped countless people navigate through it before. He's able to perform root canal treatment to alleviate toothache pain, replant knocked-out teeth, extract extremely damaged teeth, and provide a number of natural-looking and long-lasting tooth replacements if necessary. Basically, you can trust that he'll have exactly what you need no matter your circumstances!
The Most Common Dental Emergencies
Dental emergencies are typically sudden and alarming, so it's important that you know what to do should one strike. Additionally, sometimes you may not be sure whether your situation requires emergency dental care or not. Below, you'll find some common oral health problems and situations, how urgently they need to be treated, how you should handle them at home, and how we're likely to address them when you reach our office. If you are experiencing new, painful, or worrisome symptoms, don't hesitate to get in touch with us right away.
Dental Emergency FAQ's
In any emergency, you need to act quickly to give yourself the best chance of saving your smile. That means being prepared well before you ever need to think about calling your emergency dentist in Waverly. Below are the answers to some common questions our patients have brought to us. If you have any additional concerns, call us today! We'll make sure you have the knowledge you need to make a plan in the worst-case scenario.
What Should I Do About Tooth Sensitivity?
Tooth sensitivity can have several different causes. Most often, sensitivity is caused by weakened tooth enamel or a cavity. These can easily be addressed with desensitizing toothpastes and fillings. However, sometimes tooth sensitivity is an indication of exposed tooth roots or a dental infection, which may require a more extensive solution like root canal treatment. The only way to know for sure what's causing your tooth sensitivity and if it requires emergency care is to give us a call and see us for an evaluation. From there, we'll help you determine the best way to keep your smile healthy and pain-free.
What Counts As a Dental Emergency?
"Dental emergency" is a very broad category, but in most cases, it'll involve physical damage to the teeth (cracked, broken or knocked out teeth) and/or severe pain (toothaches that last more than a couple of days). Also, if you notice sudden swelling or uncontrollable bleeding in your mouth, you'll need to make an appointment as soon as possible. Remember, just because an issue isn't causing you pain at the moment doesn't mean it won't become a bigger issue later. You should call your emergency dentist near Lincoln any time you have doubts about your oral health.
I've Never Been a Patient at Your Dental Practice Before. Can You Still Help?
Absolutely! Time is of the essence during a dental emergency, and we're happy to see patients of all kinds no matter whether or not they've already visited our practice. Dr. Vacek has made a point of establishing a tradition of providing exceptional dental care for patients all across the communities that surround Waverly; most importantly, however, he loves being able to help people who need it. If you or a loved one need urgent attention that could mean the difference between saving or losing a tooth, don't hesitate to give us a call!
Will My Toothache Go Away on Its Own?
If you have a toothache, the pain might eventually fade on its own over time, but that's not necessarily a good thing! The pain from a toothache is from bacteria attacking the nerve; once the nerve's been destroyed, the pain stops, but the infection is still there. Eventually, it'll work its way to the bone; not only could your teeth become loose, but the infection can invade the rest of the body. It's best to stop these infections in the earliest stages, so don't delay in calling our practice!
In general, you should never wait for a dental issue to fix itself. Always call a dentist for treatment if you think there's something seriously wrong.