Advanced Dental Technology - Waverly, NE
State-of-the-Art Dental Care for Fantastic Results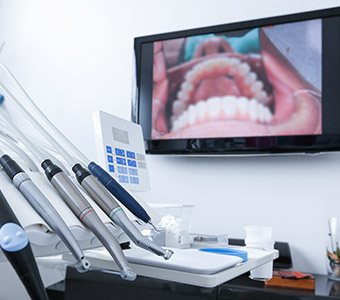 One of the best parts about dentistry is that it is constantly changing, and that's especially true when it comes to dental technology. Now, X-rays and dental impressions can be captured 100% digitally, and you can see exactly what your dentist sees with our intraoral camera. These tools enable us to find, diagnose, and treat dental issues in less time while keeping patients much more comfortable. To come experience the best that modern-day dentistry has to offer, contact us at Amberly Dental today.
Why Choose Amberly Dental for Advanced Dental Technology?
100% putty-free digital dental impressions
Faster diagnostics & less radiation with digital X-rays
Precise dental implant placement with CT/cone beam scanner
Intraoral Camera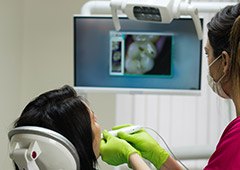 Our intraoral camera will help take some of the mystery out of your dental care. With it, we can quickly capture close-up, high-resolution images of your teeth and gums and display them on a monitor right in the treatment room. You'll finally be able to see your smile from your dentist's point of view, making it much easier for you to understand the current state of your oral health and why we might be recommending a certain treatment.
Digital Dental X-Rays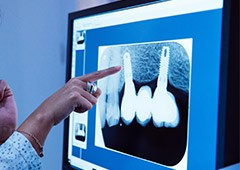 We use X-rays every single day in our practice to find dental problems before they are even visible to the naked eye, and to make this tool faster and safer than ever, we've gone completely digital. Compared to traditional film-based X-rays, digital dental X-rays are able to create images in less time, with more detail, and they emit 80% LESS radiation as well. Plus, because they don't require toxic darkroom chemicals to be developed, they are much gentler on our local environment as well.
CT / Cone Beam Scanner
While traditional 2D X-rays are great, sometimes we need a little more information when planning more advanced treatments such as dental implant placement. For this, we like to use our CT/cone beam scanner, which is able to generate an extremely detailed, 3D X-ray image of the teeth, jaw, and other surrounding structures. With this kind of image, we can put together precise and personalized surgical guides in order to provide successful treatments in the least invasive way possible.
Digital Dental Impression System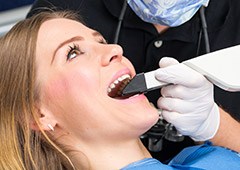 We use dental impressions to design a wide variety of treatments, from veneers to crowns to Invisalign and much more. To save our patients the discomfort of having to bite down into messy dental putty, we now use a small digital scanner to create a model of the teeth. It quickly captures dozens of unique images of the teeth that are then "stitched" together to form one cohesive 3D impression. This process is not only more comfortable compared to the traditional one, but it yields a much higher quality result as well!