CEREC Same-Day Dental Crowns – Waverly, NE
Rebuild Your Teeth on Your Schedule
What happens when a tooth becomes badly decayed or broken? It needs to be capped with a dental crown; otherwise, you might have to replace it later. Your dentist places crowns to help restore your smile's functionality, and it will also protect the root underneath. Your tooth and its root are an inseparable team—as goes the fate of one, so goes the fate of the other. Preserving both of them is very important to having a healthy smile! That's why our team at Amberly Dental makes the process of restoring your tooth easier and more convenient with CEREC same-day dental crowns in Waverly.
Why Choose Amberly Dental for CEREC Same-Day Dental Crowns?
Custom-made dental crowns in just one hour
Restorations fabricated using 100% white dental porcelain
Quality matches any lab-made crown
What Are CEREC Same-Day Dental Crowns?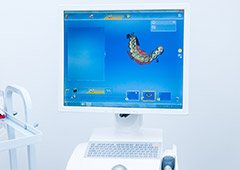 In the past, using a traditional dental crown to restore a tooth and preserve the root underneath took at least two visits to the dentist. At the first visit, the dentist would prepare the tooth and then take an impression, which would be sent to a dental laboratory. While the lab fabricated the permanent crown, the patient would wear a temporary crown to protect the tooth. Once the permanent crown arrived back in the dentist's office, the patient would return to have the crown cemented or adhesively bonded into place.
Save a Tooth & Save Time with CEREC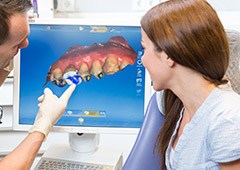 At Amberly Dental, Dr. Vacek is using a revolutionary tool to help his Waverly dental patients walk away with a custom-made dental crown after just one appointment. It's called CEREC, and millions of patients worldwide have benefited from the fast and reliable results that can be achieved with it. With CEREC, it takes about one hour to produce a fully customized crown. All you have to do is relax in our Waverly dental office while our CEREC machine mills your new restoration from durable materials.
Your same-day dental crown appointment will begin with Dr. Vacek taking a 3D image of the tooth he'll be restoring. That image will then be fed to our CEREC machine, which will go to work right away milling your new crown. When it's finished, Dr. Vacek will permanently attach your crown over your damaged or decayed tooth. That's all there is to it! When you leave our Waverly dental office, you can walk out feeling more confident and healthy than when you came in.
Do you want to know if a CEREC same-day dental crown is right for you? During a consultation appointment with Dr. Vacek at Amberly Dental, we can complete a thorough oral health assessment and tell you if treatment with CEREC is truly the right option for you. Our CEREC machine can also be used to fabricate inlays and onlays, both of which preserve a tooth with deep decay or damage.
Amberly Dental Welcomes New Patients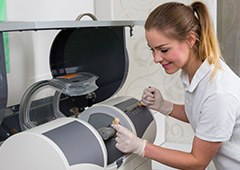 Visit our Waverly, NE, dental office for family-friendly care in a technologically advanced atmosphere. We treat patients of all ages with quality family dentistry, cosmetic dentistry, and implant dentistry. Our dental office serves Waverly and nearby Lincoln, as well as Greenwood, Davey, Ashland, Ceresco, and surrounding areas.