Dental Implants – Waverly
Replace Missing Teeth for Life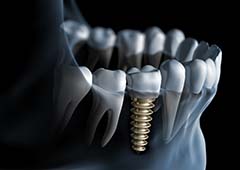 Missing teeth are a problem that plagues nearly 180 million Americans, and if this includes you, then you're well aware of the problems they can cause-- unclear speech, a weaker bite, and an unconfident smile are all too common. At Amberly Dental, we can now help you reclaim your full smile with the most complete replacement available today: dental implants. Whether you are missing one tooth or an entire mouthful, we can turn back the clock and make it seem like your teeth never went missing in the first place.
Dental Implant Education Videos
The videos below are excellent at explaining the consequences of missing teeth, different options, and the process of restoring a tooth with an implant.