Dental Implants — Waverly, NE
Replace Your Missing Teeth for Life
Missing teeth are a problem that plagues nearly 180 million Americans, and if this includes you, then you're well aware of the problems they can cause-- unclear speech, a weaker bite, and an unconfident smile are all too common. At Amberly Dental, we can now help you reclaim your full smile with the most complete replacement available today: dental implants. Whether you are missing one tooth or an entire mouthful, we can turn back the clock and make it seem like your teeth never went missing in the first place. If you're ready to replace your missing teeth for life with dental implants in Waverly, give us a call today to schedule your consultation!
Why Choose Amberly Dental For Dental Implants?
Member of the American Academy of Implant Dentistry
Implant Placement & Restoration Completed In-House
98% Success Rate With the Potential to Last a Lifetime
What Are Dental Implants?
For patients who need to restore one or more teeth, dental implants provide the most natural results. That's because they're structured like your natural teeth, with a crown on top and a "root" below. In this case, though, the root is actually made of titanium. However, like a natural root, your titanium root will stabilize your restoration and promote bone growth in the jaw. Traditional crowns, bridges, partials, and dentures only replace the part of your smile you can see. They don't restore what's underneath.
The 4 Step Dental Implant Process
The dental implant procedure is usually broken up into four distinct phases: the consultation, the implant surgery, osseointegration, and restoring the implants. Most practices refer their patients to an outside specialist for the surgical placement of dental implants, which typically adds time, expense, and stress to the process. Thankfully, our own Dr. Vacek has the advanced training to perform the entire treatment right here at Amberly Dental. With us, you'll be able to rebuild your smile in the same convenient location while working with the dentist and team you trust the entire time.
Benefits of Dental Implants
Dental implants are the only treatment that restores a tooth both above and below the gum line. A small titanium post is placed directly into the jawbone to mimic the root of a tooth, and this is used to support a number of restorations that show within the smile. This makes them much more stable than other traditional replacements, and it also enables them to stop and even reverse the bone loss that's common after tooth loss. They offer numerous benefits in comparison to other tooth replacement options, such as:
Preservation of the natural teeth. A traditional bridge requires that supporting natural teeth be filed down before they will fit beneath the crowns. Dental implants allow healthy dentition to stay whole.
A permanent solution. Non-implant tooth replacements may last for just 5 – 10 year or so. Dental implants have the potential to last for decades, or even a lifetime!
Bone preservation. Because dental implants bond with the bone around them, they help to prevent the jaw deterioration that normally occurs after tooth loss.
Natural feel and function. Dental implants feel, look, and function like natural teeth. You might even forget that they're there!
Who Dental Implants Can Help
Depending on your needs, dental implants can be used to support a number of different, custom-made restorations. When you visit Dr. Vacek for your implant consultation, he will evaluate your tooth loss and your oral health. Then, he will recommend the best type of implant-supported prosthesis for you.
Missing 1 Tooth
After an implant post is firmly secured within the jawbone, it can be topped with a single dental crown to fill in the space. Unlike a traditional bridge, this replacement tooth won't require the surrounding teeth to hold crowns that keep the new restoration in place, better preserving a patient's natural smile.
Missing Multiple Teeth
For a patient with consecutive missing teeth, instead of replacing them with individual implants, one or two posts can be used to support multiple replacement teeth, forming a strong and reliable bridge. Implant bridges are more stable and natural-looking than regular ones, plus they can be trusted to last much longer.
Missing All Teeth
Even patients who are missing all of their teeth can benefit from dental implants. Using a few strategically placed posts, a full denture can be secured directly to the jawbone to provide a fit and stability a traditional prosthetic simply can't match. While normal dentures typically bring back about 10% of a patient's bite strength, implant dentures have been shown to restore as much as 70% or more.
Understanding the Cost of Dental Implants
While dental implant restorations do tend to cost more than traditional ones, they are actually the most cost-effective option long-term. Why? Largely thanks to their longevity. Dental implants can easily last for multiple decades, while other replacements typically need to be completely redone every 5-10 years. With implants, a patient will enjoy superior function, aesthetics, plus they'll save thousands in maintenance and retreatment.
It's also important to know that the cost of the procedure can vary quite a bit from person to person depending on their needs, such as how many teeth they want to be replaced and where they are located. To learn more about what your particular procedure may cost, we invite you to schedule an implant consultation today.
Dental Implant Technology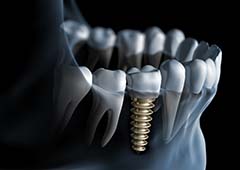 At Amberly Dental, Dr. Vacek uses computer guided implant placement for an improved dental implant experience. Using this revolutionary approach, Dr. Vacek can precisely pinpoint where to insert your titanium post(s), without any guesswork. To do this, Dr. Vacek and the team at his Waverly dental office will use their contemporary tools to create a detailed, 3D model of your jaw. With this model, we can see parts of your smile that wouldn't be visible with a visual exam or even basic X-rays. As a result, computer guided implant placement allows us to decide where to place your implants well in advance of your procedure itself.
Dr. Vacek also maintains memberships in the International Congress of Oral Implantologists, American Academy of Implant Dentists, American Dental Association and the Nebraska Dental Association.
Because we can take the guesswork out of dental implants, patients from Waverly and beyond can look forward to a faster, more comfortable experience with better results. Not every patient is a good candidate for dental implants, though. That's something else our contemporary technology can help us see. With a computer model of your jaw, we can determine whether dental implants via computer guided implant placement are really the best solution for you, or if an alternative solution might be more appropriate.
Dental Implant FAQs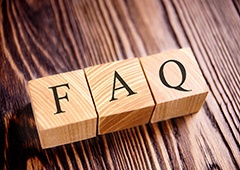 Do you still have a few lingering questions about dental implants in Waverly? Our team is just a phone call away to provide you with the answers you're looking for. With that said, we know that some patients prefer to do their research online, so they are prepared for their initial consultation. If you're in that boat, then keep reading to learn the answers to a few of the most frequently asked questions we hear from patients.
Does Getting Dental Implants Hurt?
Naturally, many patients are curious if there is any pain involved in the dental implant procedure. Fortunately, the first step is numbing your mouth thoroughly. That way, you can stay comfortable during the surgery. Once you return home, some discomfort and soreness are normal. Getting plenty of rest, using a cold compress, and taking an over-the-counter pain reliever all can help alleviate any unpleasant symptoms. If your symptoms seem to get worse, not better, then get in touch with your dentist.
How Successful Are Dental Implants?
Dental implants are built to last. But how successful are they, really? Currently, they hold an impressive 95% success rate. Plus, the short and long-term success is even higher for some, like non-smokers. Of course, prolonging their lifespan also requires proper maintenance. The good news is that you can use the same best practices recommended for natural teeth, like brushing each morning and evening and flossing daily.
What Should I Do If My Dental Implant Feels Loose?
One of the benefits of dental implants is that they are inserted directly into the jaw, providing maximum stability. If your dental implant begins to feel loose, then it could be the result of implant failure. Therefore, priority number one is scheduling an appointment with your Waverly dentist. In the meantime, do your best not to chew on that side of your mouth or touch it with your fingers or tongue.
Can I Get Dental Implants If I Smoke?
Smoking won't immediately disqualify you from getting dental implants. It is important to note, however, that tobacco use can cause complications, like dry mouth and delayed healing. For this reason, you'll be asked to quit at least two weeks before and to continue to refrain for at least three months afterwards. That's why many patients use this as a chance to kick this bad dental habit to the curb for good!
Will People Be Able to Tell That I Have Dental Implants?
Unlike restorations from decades past, dental implants are lifelike in every sense of the word. Not only are they custom-made to blend in seamlessly with the rest of your smile, but the structure mimics both the root and crown of the missing tooth, leading to maximum functionality. So, no, people won't be able to tell you have dental implants.
Do Dental Implants Decay?
Dental implants aren't comprised of enamel. As a result, they do not decay. The gums that support your implant and the teeth surrounding it, however, are certainly still vulnerable to dental problems though. This is yet another reason why implementing a solid oral hygiene routine is so important.