Sedation Dentist - Waverly, NE
Sit Back, Relax, & Smile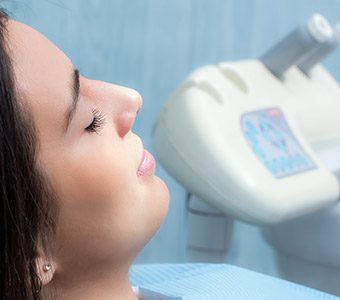 Is just the thought of going to the dentist enough to make the hair on the back of your neck stand up? We see nervous patients every day here at Amberly Dental, and we're able to help them enjoy relaxing appointments thanks to sedation dentistry in Waverly. With sedation dentistry, we can help calm anxious thoughts and protect a patient from physical pain at the same time, removing the barrier between them and a healthy, attractive smile. If you believe that sedation might improve your next visit to the dentist, give us a call today to discuss your options.
Why Choose Amberly Dental for Sedation Dentistry?
Sedation available for any procedure—checkups to dental implants and more
Strong & powerful IV sedation provided onsite
Can help patients get multiple procedures in one appointment
Oral Conscious Sedation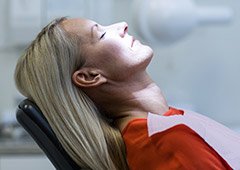 What if we could get rid of your dental nerves with a simple pill? With oral conscious sedation dentistry, that's exactly what we can do. Your dentist will prescribe you a pill to take about an hour before your appointment, so by the time you actually reach our dental office, you'll already be completely relaxed. You'll remain awake and be able to respond to commands, but time will seem to fly by very quickly, and you'll likely have little to no memory of your visit afterward.
Nitrous Oxide Sedation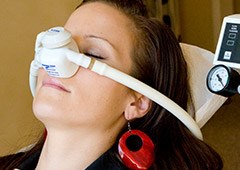 This form of sedation dentistry has been used for more than 100 years and is safe for patients of all ages. It is the gentlest kind we offer, so it's best for those who only experience mild dental anxiety. With nitrous oxide sedation, a patient simply breathes in the gas through a small nasal mask, and within minutes, they will feel calmer, warmer, and maybe like they are floating! The mask stays on for the entire appointment, and after it's removed, the gas' effects wear off almost instantly, allowing a patient to go straight back to their day.
IV Sedation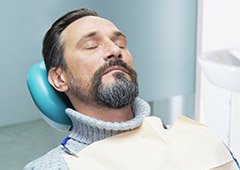 For patients who have extreme dental phobia, need quite a bit of dental work, or for those who want multiple procedures completed in fewer appointments to save time, IV sedation dentistry is an excellent option. For this, a potent sedative is administered directly into the bloodstream via a small injection in the hand, and a patient becomes extremely sedated very quickly. The biggest advantage of this technique is that it enables our team to adjust a patient's sedation level in real time, meaning we can make sure they are comfortable at every moment.