Wisdom Tooth Extractions – Waverly, NE
Worry-Free Wisdom Tooth Removal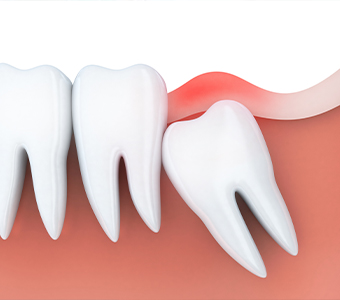 If your or your child's wisdom teeth are developing infections or growing improperly, Dr. Vacek may suggest you come in for a wisdom tooth extraction in Waverly. During this procedure, he may use sedation dentistry to help you feel more relaxed while he cares for your smile. He has performed this treatment on countless adults and teens over the years, so you can trust that your experience will be comfortable at every moment. To learn more about why the wisdom teeth usually need to be removed and how the treatment works, keep reading or contact our team today.
Why Choose Amberly Dental for Wisdom Tooth Extractions?
Multiple sedation dentistry options available
Dentist that prioritizes patient comfort
Dental insurance accepted & maximized
Why Wisdom Tooth Extractions Are Necessary
The third molars, which are commonly called the wisdom teeth, are typically the last to come in. Because of this, there is often not enough room for them to grow in as they should. When there is not sufficient space, they may become impacted (unable to fully break through the gum tissues and jawbone) or come in at an incorrect angle.
Wisdom teeth that do not erupt as they should can lead to several dental problems, such as:
Disturbance of the tooth alignment
Damage to the neighboring teeth
Tooth decay
Infection and inflammation in the gums and other tissues
The formation of cysts
Damage to the jawbone
Dr. Vacek may suggest wisdom teeth removal to avoid these serious complications. He will carefully evaluate the positioning of the teeth and wisdom teeth at every checkup to determine whether a patient would benefit from this procedure.