Meet Your Trusted Waverly Dental Team
A dentist is often only as good as the people they surround themselves with, which is why Dr. Vacek has hand-selected a team of outgoing, skilled, and highly-knowledgeable hygienists, assistants, and administrators. Every day, they come to our office with one simple goal in mind: to give our patients the smoothest and most stress-free dental experience possible. From check-in to checkout, you'll learn to love our team starting at your very first visit. Read on below to learn more about our fantastic team!
Julie – Office Manager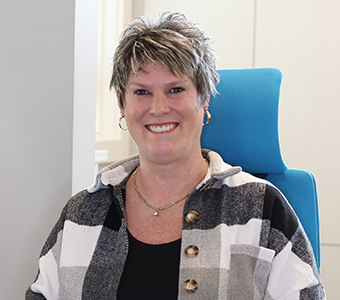 Julie has been in the dental world for an impressive amount of time, over 20 years, and we are pleased to add her experience to our team. She is passionate about helping patients' dental wellness and says she loves working with her wonderful coworkers. Julie is originally from Greenwood, Nebraska, and studied dental assisting at Southeast Community College in Lincoln. Her family includes a son, daughter, two grandsons and her dog, Marley. Julie loves to cook and in her free time enjoys swimming, camping, fishing and being outdoors in general. She also cannot wait for the installation of her new pool!
Ginny – Registered Dental Hygienist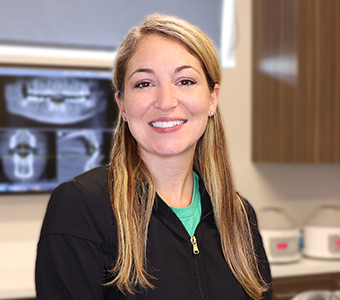 Ginny has been with us since August 2012, and she holds plenty of titles. With a Bachelor of Arts in dental hygiene from UNMC College of Dentistry, she is also a member of American Dental Hygienists Associations and National Dental Hygienists' Association. She uses digital X-rays and our intraoral camera and provides thorough periodontal assessments. She also provides prophylaxes and oral hygiene instructions individualized to each and every patient. She wants patients to feel as comfortable and knowledgeable about their hygiene visit as possible. Ginny loves coming to work every day knowing that she is delivering the very best in patient care. She has been a part-time and substitute hygienist at a variety of offices before, but she has found Amberly Dental as her career home. And she loves to work for a dentist that practices such passionate, quality care and allows her to also do so. When she is not working, she enjoys cooking, painting and running. She is married to Kiel and they have three daughters, Gianna, Carmen and Vivian.
Danielle – Dental Hygienist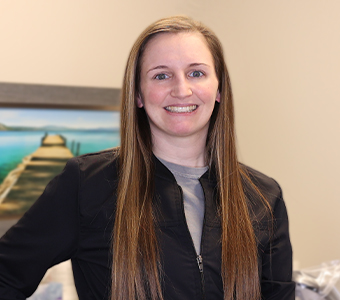 Danielle has been working in the field of dentistry for over four years and loves educating patients about the importance of their oral health. She is a proud graduate from University of Nebraska, Omaha, and the College of Dentistry at the University of Nebraska Medical Center and certified in administering local anesthesia. She is married to her husband, who is a high school teacher, and they both care for their retired racing greyhound named Queenie.
Outside the office, Danielle likes to craft, bake, read, and travel with her husband. Her favorite vacation spot she loves to visit is Las Vegas.
Margo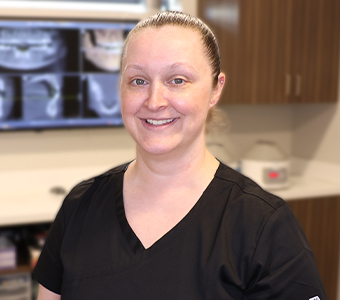 Margo joined our team in February 2022 and has over 18 years of experience in dentistry. She graduated in the dental assisting program at Southeast Community College in 2003 and loves changing patients' lives and helping them overcome their fear associated with dentistry. Outside the office, she spends time with her boyfriend along with her younger brother, Vince, niece and nephew. Her hobbies include going to the gym, kayaking the Nebraska river during the summer, riding bikes along Lincoln trails, cooking, and being the "cool" aunt to her niece and nephew.
An interesting fact about Margo is that she is a mom to a senior, three-legged chihuahua, a cat and one backyard chicken.
Gabrielle ("Gabby") – Dental Assistant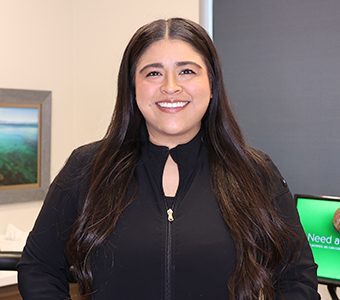 Gabby is a new addition to our team, and she has over five years of experience in the dental field. She loves being able to help people through her job and also learning so much about oral health care every day! As for her education, she studied at both Chadron State College and Mid-Plains Community College. She has her Associate of Science and Associate of Applied Science in dental assisting, as well as advanced training in radiology and coronal polishing. Outside of work, she spends lots of time with her mom, dad, younger sister, boyfriend, Gabe, and dogs, Gizmo and Gordo. Her personal hobbies include crafting, upcycling furniture, antique shopping, traveling, and going to concerts and sporting events. She has never lived outside of Nebraska — but she does not even like corn!
Kari – Dental Assistant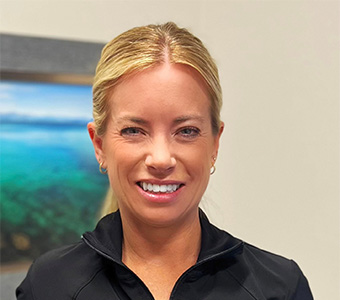 Coming Soon
Paige – Dental Assistant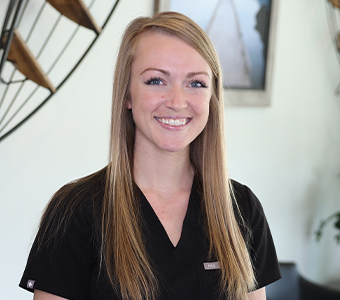 Coming Soon