Meet Our Dental Team - Waverly, NE
A dentist is often only as good as the people they surround themselves with, which is why Dr. Vacek has hand-selected a team of outgoing, skilled, and highly knowledgeable dental hygienists, assistants, and administrators. Every day, they come to our dental office with one simple goal in mind: to give our patients the smoothest and most stress-free dental experience possible. From check-in to checkout, you'll learn to love our team starting at your very first visit. Read on below to learn more about our fantastic dental team in Waverly!
Julie – Dental Office Manager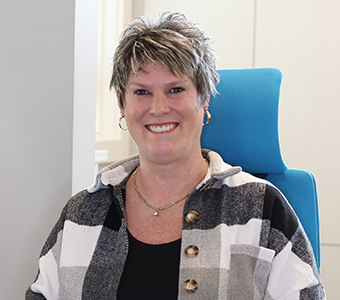 Welcome to Amberly Dental! Behind the scenes, ensuring everything runs seamlessly, is our dedicated and experienced Office Manager, Julie. With an impressive 35 years in the dental field, Julie brings a wealth of knowledge and a passion for creating a warm and welcoming environment for our patients.
Beyond her role in the office, Julie is a proud Mom and Grandma, finding joy in family moments and cherishing the laughter that comes with each visit. Her love for family extends to the entire Amberly Dental team, making our practice feel like an extended family for everyone who walks through our doors.
Outside of her professional life, Julie is an avid traveler, exploring new destinations and experiencing diverse cultures. This passion for discovery adds a unique perspective to her approach in managing the dental office, always open to new ideas and innovative solutions.
When Julie isn't busy making sure everything in the office is just right, you'll likely find her enjoying the serenity of her pool. Whether it's a quiet afternoon swim or hosting poolside gatherings, Julie believes in finding moments of relaxation and joy amidst the busy pace of life.
One thing that patients love about Julie is her infectious sense of humor. Laughter is, after all, the best medicine, and Julie brings that healing touch to our dental practice. She believes in making every dental visit not just comfortable but also enjoyable, turning what might be a routine appointment into a positive and uplifting experience.
At Amberly Dental, we are more than just a dental practice; we are a community that cares about your well-being. Julie embodies this commitment, ensuring that your experience with us is not only professional but also personal and enjoyable.
Come meet Julie and the rest of our team at Amberly Dental - where dental care meets a welcoming smile!
Danielle – Dental Hygienist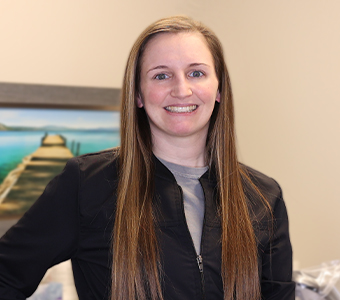 Welcome to Amberly Dental, where dental care meets compassion! I'm Danielle, and I'm proud to be your dedicated dental hygienist. I graduated from the UNMC College of Dentistry in 2017, armed with a passion for not just treating smiles but nurturing the overall well-being of my patients.
At the heart of my practice is a commitment to ensuring your comfort and providing you with the knowledge you need for optimal oral health. I believe that a visit to the dentist should not only be about treatment, but also an opportunity for education. Together, we'll embark on a journey towards a healthier and happier smile.
When I'm not busy caring for your smiles, I enjoy spending quality time with my husband, Dan, whom I married in October 2016. Outside the dental office, you'll find me whipping up delicious treats in the kitchen, immersed in the pages of a good book, or spending time with my dog, Queenie.
Your oral health is not just my profession; it's my passion. I am dedicated to providing personalized care that goes beyond the dental chair. Let's work together to achieve and maintain a smile that radiates confidence and health.
Margo - Dental Assistant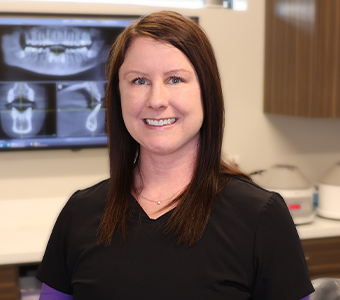 Welcome to Amberly Dental, where a warm and friendly smile awaits you! I'm Margo, your dedicated dental assistant with two decades of experience in crafting beautiful smiles. I'm not just passionate about dentistry; I'm committed to making your dental experience comfortable and stress-free.
About Me: With a rich background spanning 20 years in the dental field, I bring a wealth of knowledge and expertise to our practice. My journey in dentistry has been a fulfilling one, marked by a genuine desire to contribute to the well-being of our patients. Life Beyond Dentistry: Away from the dental chair, my life is a delightful tapestry woven with love, companionship, and shared interests. I've been fortunate to spend the last decade with my significant other, James, who has been my pillar of support and encouragement. At home, our beloved Italian Greyhound, Prince, adds a dash of joy to our lives. His playful antics and affectionate nature make coming home a truly heartwarming experience. Hobbies and Interests: When I'm not perfecting smiles, you'll find me exploring life's adventures. I have a passion for the outdoors, whether it's hiking through scenic trails, navigating tranquil waters while kayaking, or sweating it out at the gym to stay fit and healthy. A self-proclaimed connoisseur of the finer things in life, I appreciate a good glass of wine to unwind after a rewarding day at the dental office. And when it comes to satisfying my taste buds, there's nothing like the aromatic flavors of Chinese cuisine - a culinary love affair that I indulge in regularly.
Your Comfort, Our Priority: My goal is to ensure that your visit to Amberly Dental is not just about dental care but also about building a lasting relationship. I understand the importance of a friendly, familiar face when it comes to healthcare, and I am dedicated to making your experience with us as pleasant as possible.
Thank you for considering Amberly Dental for your dental needs. I look forward to welcoming you with a smile!
Gabrielle ("Gabby") – Dental Assistant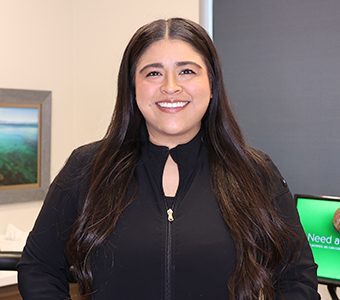 Introducing Gabby, a dental assistant with a passion for both brightening smiles in the office. Gabby's professional life revolves around dental care, where her warm demeanor and dedication contribute to creating a welcoming atmosphere for patients.
Beyond the dental chair, Gabby's heart beats to the rhythm of live music. She finds joy in the diversity of live performances, whether it's the pulsating beats and crowds of a music festival or the intimate setting of a local concert venue. Gabby's love for music is not just a pastime; it's a vibrant expression of her spirit.
When it comes to exploring the world, Gabby is a seasoned traveler, often jet-setting with her boyfriend, Gabe. Their adventures together create a tapestry of shared experiences**, **from exploring new cities to immersing themselves in different cultures.
Back home, Gabby's two furry companions, Gizmo and Gordon**, *bring laughter and companionship to her life*. *These dogs are more than pets; they're cherished friends who accompany her on walks*, **cuddle during movie nights, and add a dose of happiness to every day.
In her moments of leisure, Gabby channels her creativity into crafting, upcycling furniture, testing new recipes and nurturing her garden. Whether it's transforming old furniture into stylish pieces, trying a tasty new dish or cultivating a vibrant array of plants**, **Gabby's hands are always busy, creating beauty and uniqueness in every project.
Gabby's life is a symphony of passion, from her role as a dental assistant to her love for music, travel, and the simple joys **of **spending time with Gizmo and Gordon. Through crafting, upcycling, and gardening, she adds her personal touch to the world, creating a harmonious blend of professional dedication and creative living.
Kari – Dental Hygienist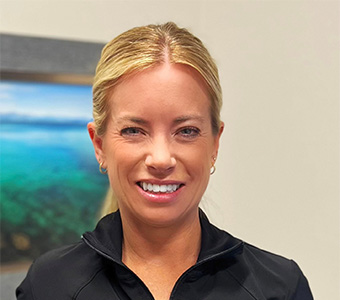 Welcome to Amberly Dental, where we are not just a dental practice but a family dedicated to your oral health. Allow us to introduce you to Kari, a passionate dental hygienist committed to ensuring your smile stays vibrant and healthy.
At the core of Amberly Dental is a family that understands the value of a warm and welcoming dental experience. Kari is not just a skilled dental professional; she is also the wife of Dr. Tim Vacek. Together, they bring a unique blend of expertise and compassion to every patient they serve.
Away from the dental chair, Kari and Dr. Vacek are the proud parents of four wonderful children. This family dynamic extends into our practice, creating an environment that feels like home.
As a dental hygienist, Kari is dedicated to helping our patients achieve and maintain optimal oral health. Her passion lies in educating and assisting her patients in achieving healthy gums and preserving their teeth for a lifetime.
Beyond the dental office, Kari loves a morning cup of coffee while snuggling her cats. She also enjoys being outside with her family, taking care of her chickens, and gardening on their acreage.
Come meet Kari and the rest of our Amberly Dental family. We look forward to welcoming you with open arms and providing a dental experience that goes beyond the ordinary.
Lora – Dental Assistant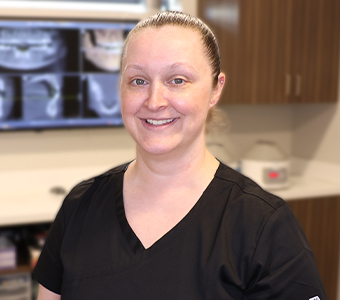 Welcome to our dental office! I'm Lora, and I bring over two decades of experience as a dedicated dental assistant. My journey in the field has been a passion-filled adventure, and I'm thrilled to be a part of our dental care team.
On the professional front, I've been ensuring the comfort and well-being of our patients for 21 years. My commitment to providing compassionate care is fueled by a genuine desire to make each dental visit a positive experience.
Beyond the dental realm, I'm a proud wife to Nick and a loving mom to two beautiful girls, aged 7 and 4. Family is at the heart of everything I do, and spending quality time together is my greatest joy. Whether it's cheering on my girls at their activities or attending sporting events as a family, these moments are cherished.
In addition to my family pursuits, I'm actively involved in our family's Honey Bee Farm. It's a delightful venture that allows me to connect with nature and contribute to the community. The world of bees fascinates me, and being part of a family business dedicated to honey production is both rewarding and fulfilling.
As a dental assistant, wife, and mother, my life is a harmonious blend of professional expertise, family love, and community engagement. I look forward to welcoming you to our dental office and ensuring your experience is not only comfortable but also tailored to meet your unique needs.
Let's work together to keep your smile healthy and bright!
Caleb - Dental Hygienist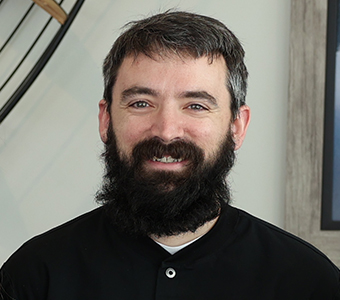 Caleb has over a decade of experience when it comes to taking care of patients' oral health, graduating in 2013 from Central Community College. Outside of his dedication to dentistry, he loves spending quality time with his wife and their 2 dogs.
He's an avid outdoorsman and enjoys spending his time away from the office hunting, fishing, gardening, and camping. What's Caleb's fun fact? He says, "I can almost always tell when movies don't use a real dinosaur… nice try Jurassic Park!
Cassandra – Dental Assistant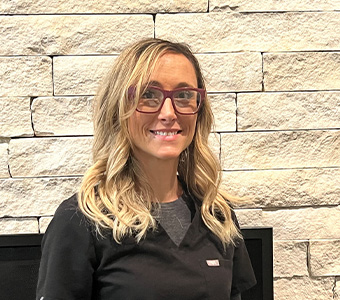 Meet Cassandra, a seasoned dental assistant with an impressive 17-year career dedicated to promoting oral health and assisting in dental procedures. Originally hailing from the picturesque state of Colorado, Cassandra decided to make a significant move to Nebraska to be closer to her 19-year-old daughter, the center of her world.
Beyond the dental office, Cassandra has a zest for life that revolves around a few key passions. One of her greatest loves is Mexican cuisine, with an undeniable fondness for tacos. She appreciates the flavors, aromas, and the communal aspect of enjoying a good meal with loved ones. In her free time, you'll likely find her exploring new Mexican restaurants or perfecting her own taco recipes in the kitchen.
When not immersed in the world of dentistry or savoring Mexican delights, Cassandra finds solace and excitement on the water. Paddle boarding has become more than just a hobby-it's a way for her to connect with nature, get some exercise, and clear her mind. Whether gliding over serene lakes or challenging herself with the ebb and flow of rivers, Cassandra embraces every opportunity to be on the water.
Family is paramount to Cassandra, and her decision to relocate to Nebraska underscores her commitment to maintaining strong bonds with her daughter. Together, they navigate the journey of life, creating cherished memories along the way.
Travel is another significant aspect of Cassandra 's life. Exploring new destinations and experiencing different cultures is her favorite pastime. From bustling cityscapes to serene beach locales, Cassandra is always eager to expand her horizons and add new stamps to her passport.
In summary, Cassandra is not just a dental assistant with a wealth of experience; she's a devoted mother, a lover of Mexican cuisine, a water enthusiast, and a passionate traveler. Her life is a vibrant tapestry woven with professional accomplishments and personal joys, creating a unique and fulfilling journey.