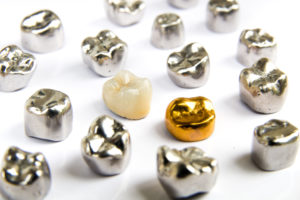 Dental restorations such as fillings or crowns are critical to protecting damaged or decayed teeth. However, recent tests have revealed the small amounts of mercury can be released into the body from silver fillings, a common material used in dental restorations. This news has reignited the conversation about which materials are best to restore damaged or infected teeth. To find out what your local dentist in Waverly believes, keep reading below.
Are Silver Fillings Dangerous?
Amalgam fillings are a popular, durable and cost-effective dental restoration that have been used to restore decayed teeth for over a century. Often called "silver fillings," amalgam fillings are actually made from a combination of different metals, including silver, tin, copper and mercury.
However, the inclusion of mercury in fillings has raised some alarm in recent years. New sophisticated tests have revealed that very small amounts of mercury in the form of vapor can be released as a person's amalgam filling wears naturally wears down over time. Exposure to high levels of mercury can cause people to exhibit the following symptoms: anxiety, memory loss, irritability, headaches and fatigue.
Reviews of the research have concluded that any amount of mercury released from amalgam fillings in the mouth is very low. However, patients who wish to avoid any doubt or concern can opt for a more modern restorative material.
3 Modern Materials for Dental Restorations
In addition to amalgam fillings, dentists today use a range of modern materials for fillings, crowns and other dental restorations, such as:
Composite resin – Made from a durable mixture of plastic and fine glass particles, composite fillings are customized to match the color of the patient's natural teeth. They can bond directly to the tooth and typically last for at least 5 years.
Ceramics – Similar to composite resin, ceramic restorations are tooth-colored, so they blend in seamlessly with the patient's natural smile. Often made from porcelain, ceramic restorations are more resistant to staining and abrasion than composite resin. Ceramic restorations typically last more than 7 years.
Gold – Fillings and crowns crafted from gold alloy (gold mixed with other metals) are among the longest lasting restorations. Gold does not corrode and can withstand chewing forces for 15 years or longer.
Save Time and Money with CEREC Technology
A revolutionary new tool, Chairside Economical Restoration of Esthetic Ceramic (CEREC) technology can help patients save both time and money. The CEREC crown restoration uses 3D imaging technology and an on-site milling machine to craft custom-made ceramic crowns in a matter of minutes.
In just a single appointment, patients can obtain a new protective crown thanks to CEREC technology. As mentioned above, ceramic crowns look and feel like a real tooth and can last upwards of 7 years.
Choosing the right restoration material for you will depend on your unique smile and personal preferences. Your ultimate decision should be made in consultation with a dental professional.
Talk to a dentist in Waverly today about the best way to preserve your smile by restoring a damaged or decayed tooth.
About the Author
For nearly a decade, families in Waverly and surrounding communities have turned to Dr. Tim Vacek and the team at Amberly Dental for all their oral care needs. Dr. Vacek uses CEREC technology to provide his patients with custom-made ceramic crowns in a single visit. For more information about CEREC and other high-quality restorations, visit the Amberly Dental website or call Dr. Vacek at 402-786-2007.