Invisalign – Waverly
Straighter Teeth without Metal Braces
Straight, healthy teeth are the true hallmark of a beautiful smile. People with attractive, balanced smiles are typically viewed as more confident, more successful, and more charismatic. As an adult, you want a great smile, and that means straight teeth. But if you wore braces as a child or teen, or never had them at all, your teeth might not be in an optimal position. Does that mean you have to endure years of metal brackets and wires for a confident smile? Not anymore! Dr. Vacek offers Invisalign clear braces at his Waverly dental practice.
Why Choose Amberly Dental for Invisalign?
Practically invisible: No one will notice your treatment
Comfortable: Always custom-made to fit each patient
Removable: Take it out whenever you need to eat or brush
Invisalign: A Clear Alternative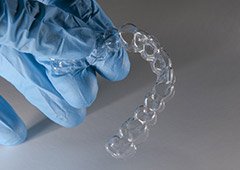 You've worked hard to build a professional image and deserve an orthodontic treatment that's as sophisticated as you are. With Invisalign clear braces from Dr. Vacek, you can have beautifully straight teeth without the hassle and time commitment of traditional orthodontics. Invisalign moves your teeth using a series of clear aligners that are subtle and effective. Best of all, treatment times are shorter than with metal braces.
The Invisalign process is straightforward and simple. First, digital impressions of your teeth will be taken and submitted to a certified Invisalign lab. Your custom aligners will be created and sent back to our office for distribution. Dr. Vacek will take the time to sit down with you and discuss the proper way to use your aligners, ensuring optimal results from the very start. You simply wear your aligners for a predetermined amount of time (usually about two weeks) before moving on to the next set in the series. Before you know it, your new, straighter smile will begin to develop before your eyes.
The Benefits of Invisalign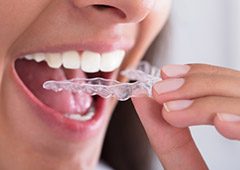 What makes Invisalign so great? With advantages such as these, we think you'll understand:
Discreet- Clear aligners mean you won't mind smiling during treatment.
No More Abrasions- Invisalign's custom-fit and smooth plastic design eliminate the mouth sores associated with metal.
Easy Care- Not only is brushing and flossing simple without brackets or wires, but the aligners are also simple to clean. Just brush them along with your teeth.
Removable- Have a big event or presentation? Just remove your aligner and replace it when your special occasion is complete.
No Food Restrictions- Eat what you like without the worry of damaging your orthodontic appliance. Just take the aligner out before meals and replace after.
Is Invisalign Right for You?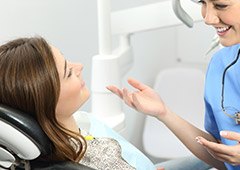 Many patients are candidates for Invisalign treatment. As with any dental procedure, a thorough exam and evaluation with Dr. Vacek are necessary to determine if Invisalign will work for your unique situation. Straight teeth without metal in your mouth –now that's something to smile about! Check out our smile gallery to discover what a difference Invisalign and our other cosmetic dentistry services have already made for so many of our patients. We want to show you how easy and affordable a dramatic smile transformation can be for you, too!
Amberly Dental Welcomes New Patients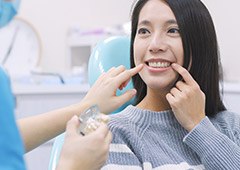 Visit our Waverly, NE dental office for family-friendly care in a technologically advanced atmosphere. We treat patients of all ages with quality family dentistry, cosmetic dentistry, and implant dentistry. Our office serves Waverly and nearby Lincoln, as well as Greenwood, Davey, Ashland, Ceresco, and surrounding areas.