Invisalign – Waverly, NE
Straighter Teeth without Metal Braces
Straight, healthy teeth are the true hallmark of a beautiful smile. People with attractive, balanced smiles are typically viewed as more confident, more successful, and more charismatic. As an adult, you want a great smile, and that means straight teeth. But if you wore braces as a child or teen, or never had them at all, your teeth might not be in an optimal position. Does that mean you have to endure years of metal brackets and wires for a confident smile? Not anymore! Dr. Vacek offers Invisalign in Waverly here at Amberly Dental.
Why Choose Amberly Dental for Invisalign?
Practically invisible: No one will notice your treatment
Comfortable: Always custom-made to fit each patient
Removable: Take it out whenever you need to eat or brush
Invisalign: A Clear Alternative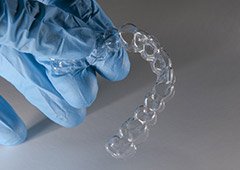 You've worked hard to build a professional image and deserve an orthodontic treatment that's as sophisticated as you are. With Invisalign clear braces from Dr. Vacek, you can have beautifully straight teeth without the hassle and time commitment of traditional orthodontics. Invisalign moves your teeth using a series of clear aligners that are subtle and effective. Best of all, treatment times are shorter than with metal braces.
The Invisalign process is straightforward and simple. First, digital impressions of your teeth will be taken and submitted to a certified Invisalign lab. Your custom aligners will be created and sent back to our office for distribution. Dr. Vacek will take the time to sit down with you and discuss the proper way to use your aligners, ensuring optimal results from the very start. You simply wear your aligners for a predetermined amount of time (usually about two weeks) before moving on to the next set in the series. Before you know it, your new, straighter smile will begin to develop before your eyes.
The Benefits of Invisalign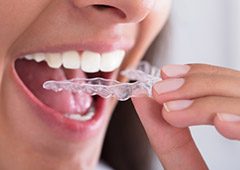 What makes Invisalign so great? With advantages such as these, we think you'll understand:
Discreet - Clear aligners mean you won't mind smiling during treatment.
No More Abrasions - Invisalign's custom-fit and smooth plastic design eliminate the mouth sores associated with metal.
Easy Care - Not only is brushing and flossing simple without brackets or wires, but the aligners are also simple to clean. Just brush them along with your teeth.
Removable - Have a big event or presentation? Just remove your aligner and replace it when your special occasion is complete.
No Food Restrictions - Eat what you like without the worry of damaging your orthodontic appliance. Just take the aligners out before meals and replace after.
Is Invisalign Right for You?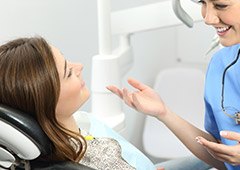 Many patients are candidates for Invisalign treatment. As with any dental procedure, a thorough exam and evaluation with Dr. Vacek are necessary to determine if Invisalign will work for your unique situation. Straight teeth without metal in your mouth –now that's something to smile about! Check out our smile gallery to discover what a difference Invisalign and our other cosmetic dentistry services have already made for so many of our patients. We want to show you how easy and affordable a dramatic smile transformation can be for you, too!
Amberly Dental Welcomes New Patients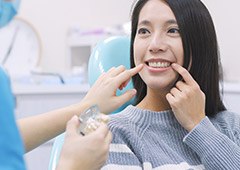 Visit our Waverly, NE dental office for family-friendly care in a technologically advanced atmosphere. We treat patients of all ages with quality family dentistry, cosmetic dentistry, and implant dentistry. Our dental office serves Waverly and nearby Lincoln, as well as Greenwood, Davey, Ashland, Ceresco, and surrounding areas.
Understanding the Cost of Invisalign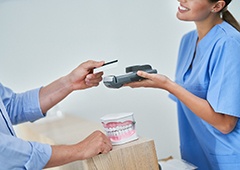 Invisalign is widely known for its discreet appearance, lack of dietary restrictions, and shorter treatment timelines. What many patients want to know, however, is how much it costs. Truthfully, finding an answer online can be difficult because each case is so unique. Don't worry – there are some factors that play a role in the price across the board. Keep reading to learn what they are!
Factors That Affect the Cost of Invisalign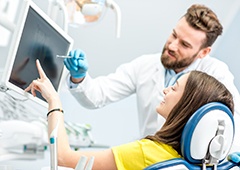 From start to finish, there are a few factors that impact the cost of Invisalign, including:
The severity of the misalignment. This will determine how many aligners are needed and if any extra accessories are necessary.
Whether you are straightening one or both arches. Naturally, straightening both arches of teeth costs more than just one.
Your compliance with treatment. If you fall off-track with your treatment plan due to misplacing your aligners or not wearing them for 22 hours a day, you need to factor in the cost of additional Invisalign trays.
Invisalign vs. Smile Direct Club™: Which Costs More?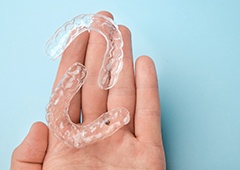 Smile Direct Club™ is one of many DIY orthodontics brands that market themselves as a cost-effective Invisalign alternative. With a $2,000 price tag, the claims about the upfront cost are certainly true. However, cheaper isn't always better, especially when it comes to something as important as your smile. While Invisalign can cost anywhere from $3,000 to $8,000, they are reliable, effective, and trustworthy. Furthermore, they are comprised of high-quality materials, are backed by professional organizations, and are supervised by a licensed dental team that genuinely cares about you and your oral health.
Does Dental Insurance Cover Invisalign?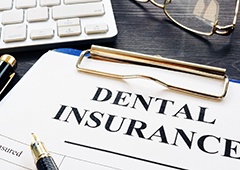 In some cases, yes! Some dental plans have a once-in-a-lifetime orthodontic provision. Simply put, that means this coverage can only be used once and does not renew each year. If you are unsure of the fine print on your dental plan, then don't hesitate to ask our team! Our knowledgeable staff is familiar with plans from many of the nation's leading providers, can file the claim on your behalf, and can help you understand your out-of-pocket expenses so the financial component of your Invisalign treatment is as stress-free as possible.
Options for Making Invisalign Affordable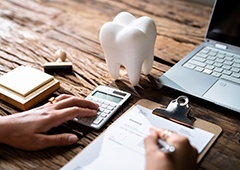 Don't have dental insurance? Don't worry! We are proud to offer our patients other ways to lower their out-of-pocket expenses.
Advantage Plan – Our team is proud to offer patients a dental insurance alternative: Advantage Plan. For an annual, flat fee, you can enjoy many of the same benefits as a traditional dental plan, like covered basic dental care and sizeable discounts on restorative services. All while bypassing annoying red tape, like yearly deductibles and maximums. Plus, by joining you get access to other benefits, like 20% off other dental services!
Flexible Financing – Flexible financing allows patients to space out the cost of their dental treatments into several payments over the course of multiple months. Our team is proud to work with both Alphaeon and CareCredit, which are two trusted third-party financiers. The best part is that some patients can enjoy payment plans with little-to-no interest too! If you have a question about this financial option, don't hesitate to get in touch.