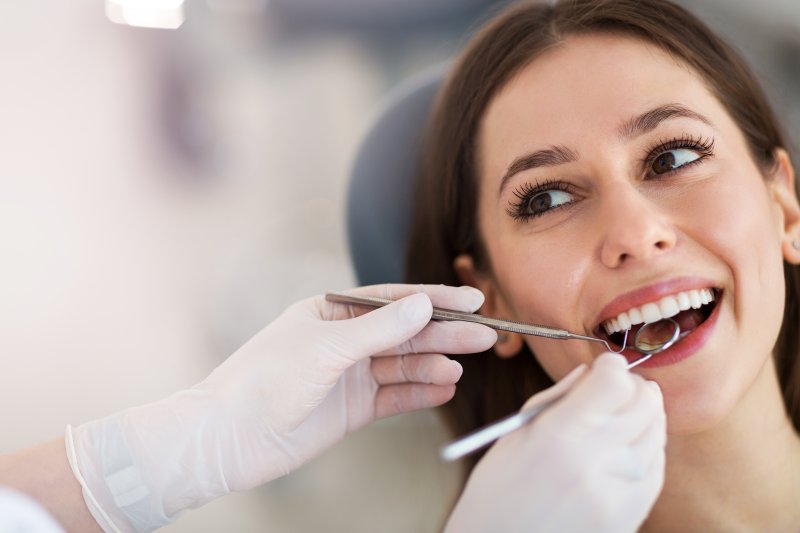 Whether you have dental insurance through your employer or through your own out-of-pocket plan, your benefits will expire at the end of the year – which is halfway over now. If you haven't seen your dentist since last December, you're missing out on the services paid for in full or in part by your insurance plan; here are some of the procedures that are usually covered.
Routine Checkups
Plaque is constantly building up on your teeth, and if it's not cleaned properly, it can lead to oral health issues such as cavities and gum disease. At their earliest stages, these conditions can be reversed, but if left untreated they can potentially lead to tooth loss.
Most insurance plans will completely cover two dental checkups per year. At these appointments, your dentist will examine your mouth for signs of tooth decay or gum infection. The sooner action is taken, the easier treatment will be and the more damage can be avoided. Furthermore, your dentist may also find oral symptoms of systemic diseases such as diabetes; they'll be able to point you in the right direction for proper diagnosis and treatment.
Routine Cleanings
In addition to checkups, most plans also fully pay for cleanings. Any plaque or tartar in hard-to-reach areas that you've missed while brushing and flossing can be thoroughly removed this way.
X-Rays
Some medical problems aren't normally visible; that's why X-rays are often an invaluable tool. Additionally, they can help the dentist identify changes in the mouth over time. Most plans will cover at one X-ray per year.
Dental Sealants
A dental sealant is a gel hardened by a special light to form a protective layer around teeth. They're useful for reducing the risk of cavities, especially for the molars where food and bacteria tend to become trapped; they're often used for children who have difficulty brushing the backs of their mouths. Insurance often covers sealants, though you'll need to check the specifics of your particular plan.
Fluoride Treatment
Fluoride is an essential mineral for helping to build strong teeth. A topical fluoride treatment can be particularly helpful for those at risk for cavities. Your plan may fully cover fluoride treatment for children; adults may need to pay more out of pocket.
Basic Procedures
Sometimes, you'll need a filling for a cavity or periodontal therapy for gum disease. While insurance rarely covers such treatments 100%, they'll often pay most of the cost for simple procedures. Check your plan for exact coverage rates.
Seeing the dentist at least twice a year is vital to maintaining good oral health, and good insurance can help make it affordable. Be sure to speak with your dentist about your specific needs so that you can take full advantage of your plan.
About the Author
Dr. Vacek opened Amberly Dental in 2009 and enjoys working in science and medicine while being able to help people. He has specialty education in surgical dental implant placement and tooth restoration. He offers a variety of preventive treatments, including dental sealants and fluoride supplements. To schedule an appointment, visit his website or call (402) 786-2007.