Root Canals & Tooth Extractions – Waverly, NE
Painless Treatment for Complete Relief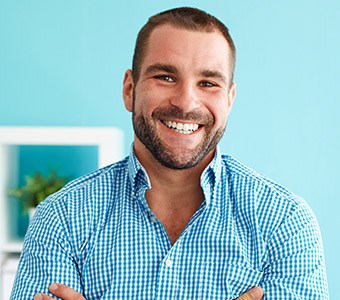 Getting a root canal isn't always the most pleasant experience, but it's necessary to promote optimal oral health. Amberly Dental root canal therapy allows patients to keep a tooth that would otherwise need to be extracted. Root canals are often misunderstood, so let's clear things up.
Why Choose Amberly Dental for Root Canals & Tooth Extractions?
Sedation dentistry available to ensure comfort
Wisdom tooth extractions performed in-house
Same-day appointments available for immediate pain relief
Root Canal Process
A root canal is a dental procedure that involves removing diseased pulp tissue from the interior of a tooth. Bacteria and additional infections can occur resulting in a painful toothache. Nobody likes a toothache, especially Dr. Vacek, which is why a root canal procedure is often necessary to alleviate discomfort. The procedure begins with tooth disinfection and the removal of all debris (nerve tissue, lymph tissue, blood tissue, bacteria, and infection) from the coronal pump chamber and its associated canals. Once an affected tooth's canals are sufficiently cleaned and shaped, they are filled with materials designed to prevent pain and infection from recurring.
Please note that not all toothaches are created equal. Root canal Waverly recommends keeping an eye out for these symptoms before making an appointment. These include:
Minimal to severe pain
Tooth discoloration
Swelling & irritation in the surrounding gum tissue
Signs of infection visible on a radiograph
Tooth Extraction Basics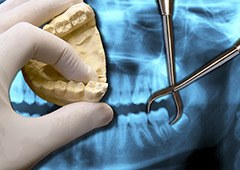 In more extreme cases, your tooth may need to come out. A tooth extraction, or having teeth "pulled", is among patients' most dreaded procedures. Also referred to as exodontia, tooth extraction involves removing a tooth from its socket in the jaw bone. Before extraction is considered, every effort will be made to try to repair and restore your tooth. If all other options have been exhausted, tooth extraction is necessary. Here are the reasons why this procedure is necessary:
Severe tooth damage/trauma
Malpositioned/nonfunctioning teeth
Orthodontic treatment
Extra teeth
Radiation
Chemotherapy
Organ transplant
Tooth extraction Waverly provides gentle care for our patients. Dr. Vacek can remove teeth that have been damaged or decayed in a procedure known as a simple extraction. Simple extractions are performed on teeth that are visible in the mouth and it's the most common type of extraction method.
Call our office today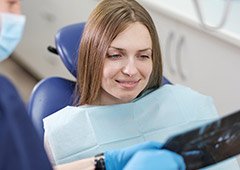 Mouth discomfort can't wait, so visit our Waverly, NE dental office for family-friendly care in a technologically advanced atmosphere. We treat patients of all ages with quality family dentistry, cosmetic dentistry, and implant dentistry. Our office serves Waverly and nearby Lincoln, as well as Greenwood, Davey, Ashland, Ceresco, and surrounding areas.