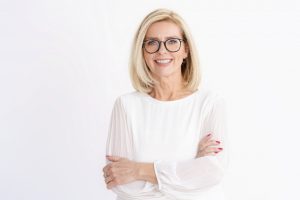 When you think of an effective anti-aging regimen, you probably call to mind things like exercise, skincare, and a balanced diet. But your smile also has a big impact on your perceived age. If you have suffered a degree of tooth loss, a bridge or traditional denture can do much to restore your appearance. However, they have their shortcomings. Dental implants offer much more powerful anti-aging benefits. Let's talk about how that is the case.
Dental Implants Prevent Bone Loss in the Jaw
Your teeth are partially responsible for allowing your cheeks to maintain a youthful, round shape. Unfortunately, extensive tooth loss can cause your cheeks to look sunken, making you appear years older than you are. But that is not all. Without your natural teeth to stimulate it, your jawbone begins to be resorbed (your body recycles its raw materials). Eventually, it can lose so much density and mass that it becomes visibly smaller, aging you even further.
Dental implants can address both of the abovementioned issues. Not only can they make your cheeks appear rounder, but they also act as substitute tooth roots. They stimulate the jawbone, helping to keep it strong and whole. Other forms of tooth replacement simply rest on top of the gums and therefore do nothing to preserve the jaw. Some research even indicates that traditional dentures accelerate bone loss in the jaw.
Dental Implants Look Incredibly Natural
You have probably seen people with traditional dentures and immediately noticed that their teeth were not entirely natural. You might have also interacted with individuals who suffer from, missing, discolored, and broken teeth and automatically assumed they were up in years.
Dental implant restorations look incredibly natural. They are constructed out of materials that closely mimics the feel, color, and light-reflecting properties of real enamel. Onlookers are unlikely to have any idea that they are not the same teeth you have had since you were a child.
Dental Implants Reduce the Risk of Future Tooth Loss
Sadly, tooth loss often leads to more tooth loss. This may happen because the teeth are placeholders for one another. When a tooth goes missing, the nearby teeth may drift out of place. If you lose a bottom tooth, the one above it may even over-erupt, coming so far out of the gumline that it should be extracted. Dental implants play a role in keeping all of your teeth exactly where they belong.
There is no shame in growing older, but there is also no reason to let tooth loss age you prematurely. With the help of dental implants, you can turn back the clock on your smile and look as youthful as possible.
Meet the Practice
Dr. Timothy Vacek has been serving patients at Amberly Dental for more than a decade. He enjoys, not just treating patients, but also sharing valuable information with them about oral health. Whether you are ready to get dental implants or you just want to learn more about your treatment options, Dr. Vacek and our team would be pleased to speak with you. Contact us at 402-786-2007.