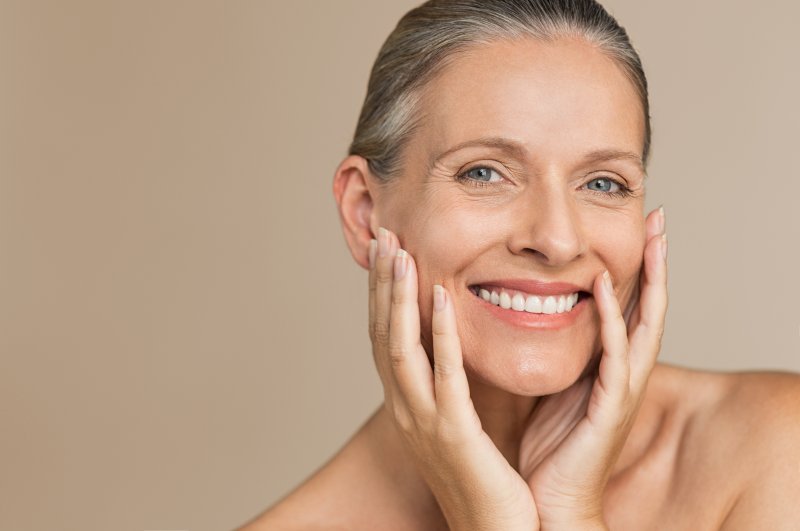 After years of wear and tear to your teeth, it's not uncommon to inquire about cosmetic dental services that can boost your smile and help you look years younger. Whether it is veneers, teeth whitening, metal-free restorations, Invisalign, cosmetic bonding, or gum recontouring, each is designed to hide imperfections and give you the appearance you desire. But can the state of your oral health make a difference? A cosmetic dentist explains why a smile free of decay, disease, and infection is necessary to ensure positive and longer-lasting aesthetic results.
Why Good Oral Health is Beneficial When Receiving Cosmetic Treatment
Having healthy teeth and gums is crucial to maintaining good oral and overall health. Whether it's cavities, gum disease, or another more serious dental issue, your dentist will need to take immediate action to mitigate the problem and restore the health of your smile as quickly as possible, especially if you plan to undergo services focused on improving your aesthetics.
Because cosmetic dentistry is designed to address the imperfections of your smile, you may wonder why it's important that good oral health be factored in your dentist's decision. The truth is that no matter the method of treatment (i.e., veneers, teeth whitening, Invisalign, or even cosmetic bonding), its abilities can only mask what lies on the surface. They cannot take away problems that exist deep within your smile. Thus, the health of your teeth and gums can determine how natural and aesthetically pleasing your cosmetic results will be. By attempting to simply cover the problem will only exacerbate it, resulting in more timely and costly treatment down the road.
Why an Initial Consultation is Necessary
When preparing to receive cosmetic dentistry services, your dentist will want to meet with you to evaluate your smile and discuss your smile goals. By examining your oral cavity in its entirety, they can determine if any problems currently exist that might hinder the success of your cosmetic treatment. For example, if you have gum disease but want veneers to hide your chips and cracks, it will be necessary to undergo periodontal therapy first. Why? Because gum recession is common among individuals with gum disease. Should this occur after your veneers are put into place, you could face the reality of your restorations becoming more noticeable, effectively losing their natural look.
Another example is cavities. Should decay develop within a tooth and damage the enamel, it will be necessary for your dentist to clean the infected tooth and prevent additional decay from spreading to nearby healthy teeth before beginning cosmetic treatment. This will ensure your tooth enamel is in better shape to receive cosmetic bonding, teeth whitening, a metal-free restoration, veneer, or Invisalign.
Although the wait to complete your cosmetic treatment may not be ideal, it is far better to treat common oral health problems in advance. That way, you can thoroughly enjoy your new smile and its many great benefits.
About the Author
As an established dental professional in Waverly, Dr. Tim Vacek is an advocate for preventive care. Understanding it can only help to improve the oral and overall health of an individual, he provides comprehensive services designed to stop problems before they start. But should you notice decay, gum disease, or another similar problem occurring, it is best to see him and his team at Amberly Dental, If you are looking to hide the cracks, chips, gaps, or stains on your teeth, Dr. Vacek can certainly offer the necessary treatment to put your oral health in optimal condition for cosmetic care. Contact us at (402) 786-2007 to find out how we can help you get the smile of your dreams.