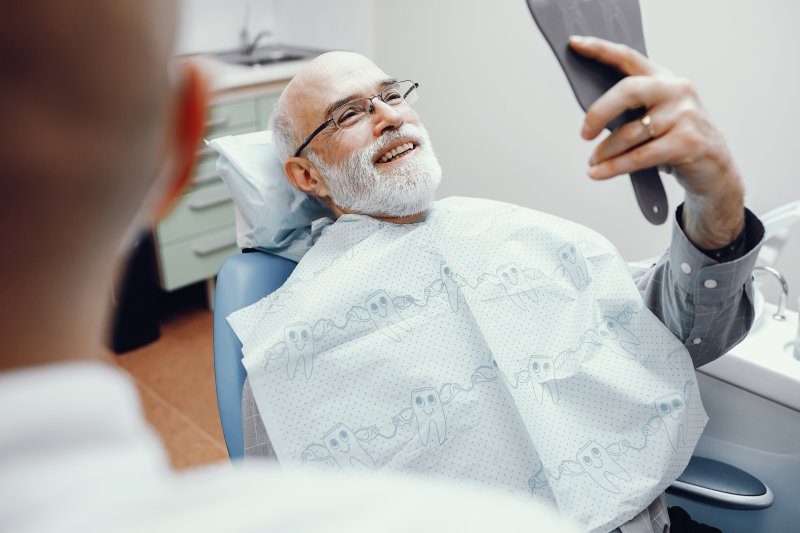 Are you one of the 120+ million Americans struggling with tooth loss? If so, then you may be wondering whether dental implants are the best tooth replacement solution for your unique dental needs. After all, they can last 20+ years with proper care, effectively prevent bone loss, and are unmatched in durability. However, to preserve their impressive 95% success rate, dentists go to great lengths to qualify patients before the procedure. Here are four traits that make someone a good dental implant candidate!
#1. Healthy Gums
The short and long-term success of your dental implants relies heavily on healthy gums. Therefore, if you have untreated gum disease, then your dental team will recommend undergoing periodontal therapy beforehand. After all, the implants are more susceptible to gum inflammation than your natural teeth, and moving forward with the procedure without administering treatment can cause the harmful bacteria to attack the supporting bone and compromise the implant.
#2. Adequate Bone Density
One of the reasons dental implants provide patients with unmatched durability is because they rely on your jawbone for support instead of your gums. So, if you have undergone significant bone loss, you may not initially be a candidate. Fortunately, you may be eligible for the procedure by undergoing a bone graft in advance.
#3. A Commitment to Good Oral Health
Unlike other tooth replacement options, dental implants can last 20+ years with proper care. With this in mind, patients considering this state-of-the-art tooth replacement option are expected to commit to a solid oral hygiene routine, which includes brushing twice a day, flossing daily, and visiting the dentist every six months for a professional checkup and cleaning. If for any reason you are unwilling or unable to do so, then your dentist may recommend a different solution, like dentures.
#4. No Poor Dental Habits
Using tobacco products, opening things with your mouth, and chewing on ice are just a few poor dental habits that can compromise the condition of your dental implants. So, if you engage in any of these behaviors, it's a good idea to put a plan in place to quit before, during, and after your procedure. That way, you can get the long-lasting, full, healthy smile you deserve safely.
If you are interested in filling in the missing gaps in your smile for good, there is no time like the present to talk to your dentist. From there, you'll be one step closer to determining whether dental implants are the right solution for you!
About the Author
Dr. Vacek earned his DDS from the University of Nebraska Medical College of Dentistry and has been helping patients achieve their smile goals ever since! In addition to completing over 100 hours of continuing education each year, he is a proud graduate of Implant Seminars, which allows him to bring the latest techniques to Amberly Dental. To schedule your dental implant consultation, visit his website or give him a call at 402-786-2007.