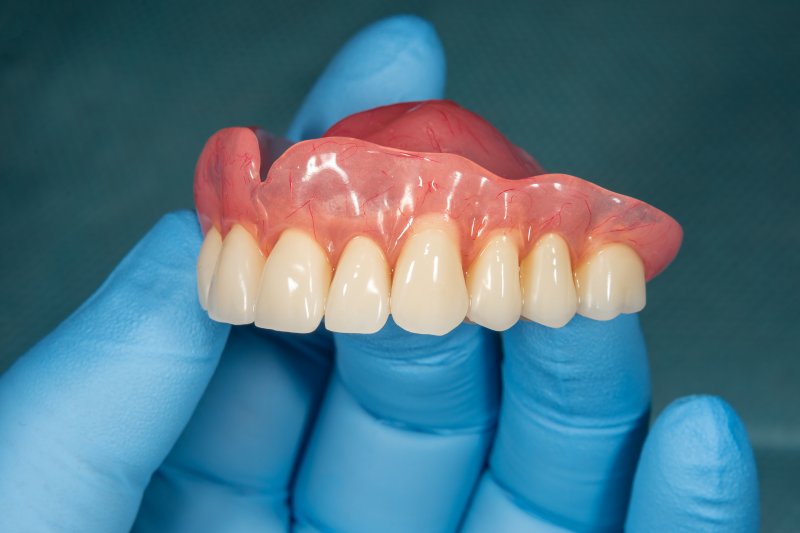 Thanksgiving is right around the corner, and whether you and your family are planning a large gathering or keeping it small because of COVID-19, you're likely going to enjoy a hefty feast of all your favorite foods. From turkey and dressing to yams and pecan pie, it's hard to wait until the big day to start cooking. But no matter if you're the one doing all the cooking, or you're simply prepared to enjoy the food, you'll want to be mindful of what you decide to eat if you have a denture. A dentist shares a few tips so you can indulge this Thanksgiving while keeping your dentures in great shape.
Limit Your Sugar Intake
Whether it is pecan pie, pumpkin pie, or apple cobbler that is your weakness, try to minimize how much sugar you eat at Thanksgiving. Desserts aren't the only food category that contains harmful amounts though. You should also be mindful of cranberry sauce, candied yams, and caffeinated beverages like soda and coffee (with sugar). Not only can they lead to an increase of bacteria that can break down tooth enamel, but they can also get stuck to your dentures. If you do eat any of these during the holidays, make sure to keep a glass of water nearby or rinse out your mouth immediately after you've finished.
Take Smaller Bites
If you have dentures, you know how embarrassing it can be to have them slip or fall out while trying to eat. To avoid this problem, cut up your food into small bites and chew slowly. No matter what is on your place (i.e. vegetables, meat, fruit), it is best to eat using both sides of your both, as this will not only create an even bite force, but it will also help keep your dentures in better shape instead of wearing down one side more than the other.
Avoid the Harder Foods
If turkey and ham are the traditional dishes found at your table, this may not be too much of an issue; however, if you prefer denser, harder foods like corn on the cob, raw vegetables, and steak, you may experience greater difficulty keeping your denture firmly in place. You will likely find that you are chewing more intensely in an attempt to break down the food. To avoid a potential break or slip of your dentures, try steaming or roasting your veggies, opt for corn off the cob, and choose meats that are more tender when cooked.
By keeping these helpful tips in mind this holiday season, you can enjoy all your favorite foods without worrying about your dentures posing a problem.
About the Author
Dr. Tim Vacek attended the University of Nebraska Medical College of Dentistry and earned his DDS before going on to practice in the state of Wisconsin. Eventually, he returned to Nebraska and opened Amberly Dental in 2009. As the holidays quickly approach, he and his team remain committed to providing patients with helpful tips and suggestions regarding how best to avoid tooth decay, gum disease, and damage to their dental restorations. Whether it is a crown, dentures, or dental implants, he can provide tips and tricks to avoid an emergency this holiday season. Contact us at (402) 786-2007 if you have a denture and want to make sure it's ready for Thanksgiving.