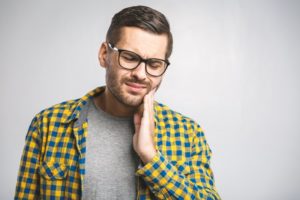 You wake up one morning, and the very first thing you notice is that one of your teeth hurts. What should you do next? Is this a problem that can wait? Should you call your dentist right away? Sometimes, figuring out what is and isn't a dental emergency can be quite tricky. You don't want to ignore a serious problem, nor do you want to panic over something minor. When is it really necessary to contact an emergency dentist? Read on below to find out.
Dental Problems That Can Wait…A Little Bit
If you experience any of the following, you don't need to worry about getting dental care right away, but you should still schedule an appointment relatively soon. While these problems aren't a major concern, ignoring them for too long can allow them to turn into a major headache!
A dull, persistent toothache: Something might be stuck in-between your teeth, so rinse and floss the area and see if this helps. If not, then the issue is likely a small cavity or crack in the enamel.
Bleeding gums: It's normal for the gums to bleed a little bit if you have recently started flossing, though it could be a sign that you're cleaning your teeth with too much force. Try brushing and flossing with a lighter touch for about a week and see if it stops. If it doesn't, then you might have early-stage gum disease, which will require periodontal therapy from your dentist.
A loose/dislodged filling or crown: Having a crown or filling fall out can certainly be jarring, but it's not something that needs to be addressed right away. Simply put the restoration in a safe container and avoid chewing with the tooth until you can see your dentist.
Dental Problems That Require Emergency Care
On the other side of the coin, if you find yourself dealing with any of these issues, give your dentist a call right away:
A severe toothache: If your tooth is hurting so bad that you can't really function normally, then you might have a serious infection or deep fracture, in which case you should visit your dentist ASAP to get relief.
A knocked out tooth: After a tooth has become fully dislodged, your dentist can put it back into place, but only within an hour or so of the initial accident. Recover the tooth and give them a call as soon as you can.
Cracked or broken tooth: If a tooth has sustained quite a bit of physical trauma, this can expose the sensitive inner layer, making it more vulnerable to developing an infection that can cause a lot of pain. Your dentist will be able to repair the tooth and prevent this using a dental crown, and you should go see them as quickly as possible.
Just a Call Away
Not all dental issues require emergency care, but if you're ever concerned about your teeth, it's best to go ahead and just call your dentist anyway. Describe your situation, and they'll let you know what you should do next, whether that involves scheduling a same-day appointment or not. With their help, they'll ensure that you always get the care you require right when you need it.
About the Author
Dr. Timothy Vacek is a family, cosmetic, and emergency dentist who has been practicing in Waverly since 2009. He and his team are always happy to schedule same-day appointments for emergency patients so they can get the urgent care they need without waiting. To learn more about how to handle common dental emergencies, he can be contacted through his website.